6 Month Smiles

Six Month Smiles is an orthodontic system using the latest expertise to straighten teeth quickly and efficiently. The technology behind Six Month Smiles allows the system to manoeuvre teeth swiftly into place with greater comfort than traditional braces. The wires which align the teeth are made from nickel titanium and are tooth coloured for a discreet look. Treatment times usually take between 4 to 9 months to complete.
How does the treatment take only 6 months to complete?
The nickel titanium wires align the teeth which show only when you smile. The device doesn't act on the back teeth, allowing the right candidate the luxury of a straighter smile without the lengthy treatment time involved with traditional systems.
Do 6 month smiles offer more comfort than regular braces?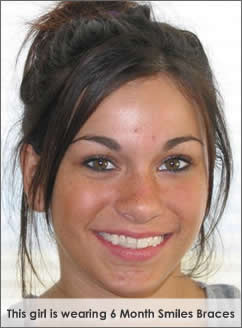 The lower pressure used by this system to bring the smile along allows for greater comfort. This does not mean accelerating treatment by simply "tightening" only, which is a common misconception. Six Month Smiles treatment focuses on the aesthetics of straight teeth instead of the position of your bite.
Can this device do any harm to the roots, gums and teeth?
This system has no greater risk to teeth roots and gums than that associated with traditional orthodontic devices. The lighter forces used by the braces means the chance of having to have teeth removed to accommodate the system is unlikely. This means that Six Month Smiles then is one of the safest treatments on the market.
What are the benefits of 6 month smiles?
Discreet tooth coloured wires.
Shorter treatment times.
Greater comfort.
Less likely to have teeth extracted.
Will I have to wear a retainer?
All orthodontic systems require a retainer to be worn after treatment is complete and Six Month Smiles is no exception. A variety of options are available depending on your preference.
Get in Touch
Fill out the form below and we will get back to you as soon as possible