Restylane
A natural beauty lift using material found naturally in the body
Restylane: A natural boost for your complexion!
As we age the appearance and texture of our skin changes due to a loss in elasticity. The tightening of skin creates visible signs of ageing, including the development of fine lines and wrinkles. Restylane is an incredible facial aesthetic treatment which uses chemicals found naturally in the body to create a fresh, youthful complexion. Restylane is a clear, biodegradable gel containing hyaluronic acid, which is injected into the skin and produces instant results.
Restylane is manufactured in Sweden, a country renowned for excellent standards of living and medical provisions. Since its development in 1996 more than 3 million people have chosen to receive Restylane treatment in more than 70 countries worldwide.
Restylane is a unique product as it is the only treatment that contains injectable NASHA (non-animal stabilised hyaluronic acid).
A brand new you in just 30 minutes!
One of the most advantageous aspects of Restylane is the speed and simplicity of the treatment process. In just 30 minutes the results will become visible. Furthermore, there is no need for pre-treatment skin tests or recovery time after treatment. In most cases sessions take less than half an hour to complete, although this will depend on the complexity of treatment and the amount of Restylane required.
The treatment process involves the use of extremely fine needles to inject Restylane into the skin. The injections are relatively pain-free and the procedure is quick and straightforward. Once injected into the skin Restylane adds a youthful glow to the complexion, reversing ageing effects and creating a natural look.
Restylane is ideal for reducing the visibility of fine lines and wrinkles and the creation of supple, soft skin. The treatment is also perfect for adding volume to thinning lips. The procedure is completely safe and there is no occurrence of scarring or other untoward side-effects.
Pain reduction
Pain relief is not usually required for Restylane treatment. However, if you are worried or anxious about receiving injections we are happy to arrange pain relief, including local anaesthetic cream. Please do not hesitate to express any concerns you may have before going ahead with the treatment.
After treatment
It is entirely normal to experience mild swelling and redness immediately after treatment, but this will subside shortly after.
In the case of lip augmentation swelling may last a little longer. The lips can appear uneven to start with but this is nothing to worry about as the final result will be evident shortly after treatment. In some cases we advise a minor touch-up treatment after 2-4 weeks to achieve optimum results.
Restylane is a very effective treatment for smoothing complexion and adding a natural bounce associated with young, healthy skin. The procedure is completely safe and the results are instantaneously obvious.
Duration
The results of Restylane treatment are long lasting but they are not permanent. We advise our clients to receive top-up treatments to preserve the results. Most patients choose to have treatment sessions every six to twelve months.
Before and After Glabellar lines
Nasolabial Folds

Sculpting lips
Restylane is a safe and simple means of adding volume to create voluptuous yet natural looking lips. Lip contouring is usually carried out in two different stages: pouting and contouring. Restylane can be injected into the upper, lower or both lips depending on individual preferences. Lines that run toward the nose, known as philtrum ridges, can also be filled out using Restylane.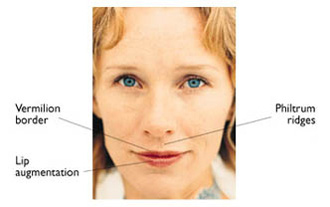 Before and After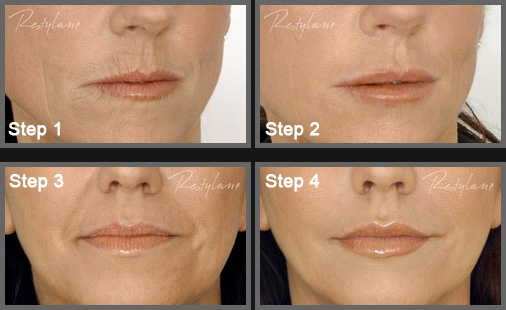 Restylane: take charge of your looks!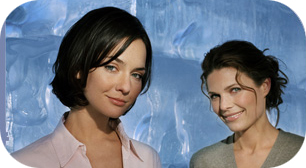 Restylane has been proven to have long-lasting effects but the results, unfortunately, are not permanent. The beauty of Restylane is that you can choose when to 'top-up' your treatment and assume absolute control over your appearance. Some clients prefer to replenish their treatment on a regular basis, while others will leave longer periods of time between treatment sessions.
Information about the skin and tips for keeping wrinkles at bay!
The skin is the largest organ in the body; it covers between 1.5-2 square metres and accounts for around 15% of body weight.
What happens as we age? As we age our skin loses elasticity due to a loss of collagen and hyaluronic acid. The skin is less able to retain water and this makes our skin appear dull, dry and lifeless. The skin also becomes looser and thinner, which causes wrinkles and lines to develop.
Facts about the skin: the skin is made up of several layers. The main layers that form the skin include the epidermis, the dermis and the subcutaneous tissue. Wrinkles tend to form in the lower layers of the skin (as a result of the loss of collagen). The condition of the epidermis (which is the top layer of the skin) largely determines the appearance of the skin.
What causes lines and wrinkles? Lines and wrinkles form as a result of a decrease in collagen and hyaluronic acid, which serve as support fibres in the dermis layer of the skin. Many experience wrinkles as they age. However, sun exposure and smoking habits can also contribute to the development of wrinkles and fine lines.
Exercise: can help to reduce the visibility of wrinkles by boosting blood circulation throughout the skin to improve skin cell renewal.
Sleep: getting plenty of sleep is not only beneficial for your overall health but also helps to boost the appearance of your skin.
If you would like further information on any of our treatments please ring The Shoreham Smile Studio on 01273 464454 or Email Us and one of our team will be happy to advise you on the best treatment for you.
Get in Touch
Fill out the form below and we will get back to you as soon as possible