Invisalign Teen

Invisalign Teen aligners are a clear and comfortable alternative to conventional braces. The aligners are designed to custom-fit your teeth, helping to achieve the perfect smile with the least inconvenience to your lifestyle. The clear aligners not only offer a discreet way to straighten your teeth but they move your teeth in gradually sparing you the pain associated with conventional braces such as tightening, metal wires and brackets.
What does the treatment involve?
The first step will involve visiting our Shoreham Smile Studio practice for a consultation to discuss if this particular treatment is for you. Your dentist will then take pictures and impressions of your teeth so that they can plan your tooth movements in order to correct your orthodontic problems. Clear aligners will then be custom made to fit your teeth and will need to be worn for 20-22 hours per day, being removed in order to eat, clean or for a special event. Each aligner is replaced with new ones every two weeks, gradually and gently moving your teeth toward their final position.

How much does it cost?
The cost of treatment will be determined in your initial consultation and will vary from patient to patient, as each treatment is unique to your specific orthodontic issues. Costs will usually depend on the complexity of your case, the length of treatment, and any other treatment details that may be prescribed.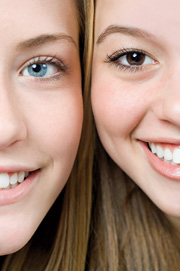 Advantages of Invisalign Teen
The aligners snap onto your teeth easily avoiding any unnecessary discomfort.
The aligners are clear and practically invisible helping you maintain your self-confidence.
The aligners are removable enabling you to brush and floss normally during treatment, helping you maintain good oral hygiene and avoid plaque retention.
The aligners allow for your growing permanent teeth.
The aligners are replaceable if lost, though there is a limit to the number of replacements.
Get in Touch
Fill out the form below and we will get back to you as soon as possible