CEREC 3D
Our State of the Art Ceramic Studio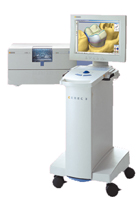 Cerec 3D by Sirona is a sophiscated computer aided system for producing durable high-quality ceramic restorations. It is simple, fast and conserves the natual tooth. Cerec is ideal for patients who want an authentic tooth-coloured alternative to amalgam or gold. In many cases Cerec allows tooth restorations to be completed in a single session, within just One Hour and without the need for impressions, temporaries or long waiting periods.
The Cerec Meterial that is used to make the Inlay, Veneer or Crown is an advanced durable ceramic material.
Advantages of having Cerec compaired to standard proceedures:
Durable ceramic material
Aesthetic
Biocompatible
Natural-looking
Conserves the natural tooth
Affordable
Only one treatment session required
Still not convinced of the advantages, take a look at the images below to see the real effects and results of Cerec:

The CEREC Proceedure is carried out in 5 easy steps:
Before treatment starts your dentist will inform you about all the benefits of Cerec.
The first step is to remove the dental caries and/or the existing filling. The Cerec measuring camera then takes a three-dimensional photograph of your tooth.
The contours of the ceramic restoration are designed on the computer moniter.
Cerec automatically mills the restoration out of a tooth-coloured ceramic block.
Finally, the restoration is inserted into your tooth and polised. The finised ceramic restoration looks and feels exactly like natural dental enamel.
If you are looking for a dentist that offers the latest state of the art Cerec technology in Brighton, Hove or surrounding areas then give out practice a call to book a FREE initial consultation with Dr Javad.
Get in Touch
Fill out the form below and we will get back to you as soon as possible